Guest blogger Paul McGregor, Editor-In-Chief of MensFashionMagazine.co.uk, looks back at the past few days at LC:M as he shares all there is to know about up and coming menswear fashion, from the trends ruling the stylish folk on the street to the highlights from the shows.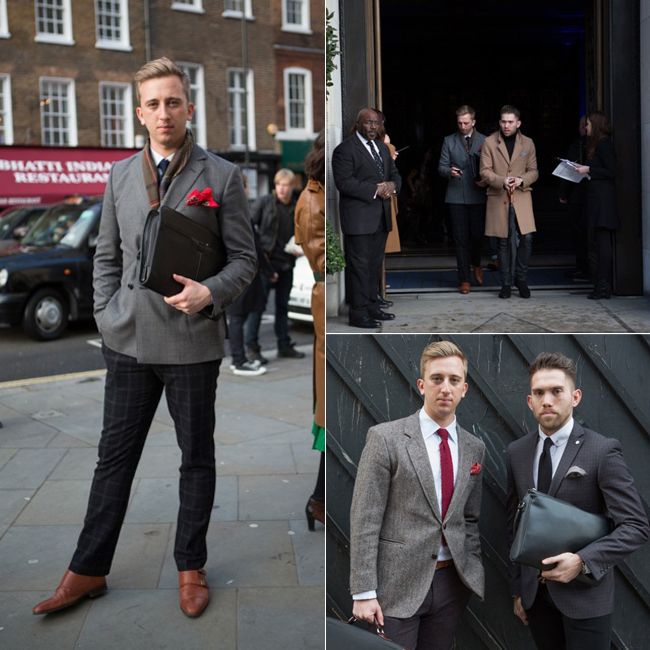 So there we have it, three busy days that brought together the menswear industry, has come to a conclusion for another season. Even after subtle damage to our livers through the free drinks, pretty dreadful weather, and a burst pipe at the Oliver Spencer show, London Collections: Men is going from strength to strength.
In its fourth season, the 3 day event showcased some of the most talented menswear designers highlighting their AW14 collections. From Pringle of Scotland to Burberry, designers offered something unique to their show or presentation.
On the streets of Holborn saw street style photographers come in their masses, as the stylish chaps of the industry posed for photos. The styles from the attendees varied heavily, but classic tailoring seemed to rule the streets. There seemed to be a defiant trend occurring when it came to headwear, with trilbys and flat caps a common choice, and there was also an influx of roll necks being opted for over a classic shirt.
After kick starting my LC:M journey on Sunday night at the Dolce & Gabbana tailoring presentation, (which could easily bankrupt me when the collection arrives in store) I was then ready to kick start things on Monday morning. It was hectic, but it was worth it, and here are my highlights from the week:
Lou Dalton kicked off proceedings, and didn't fail to disappoint. Introducing wearable items into the collection, alongside the more contemporary pieces, it featured hardwearing, workable pieces that would suit the everyday man. With oversized cashmere coats, jackets and trousers in brown cord, and Fair Isle knits, it was a great collection to kick start the proceedings.
Mr Hare was also a highlight on day 1, with a really powerful presentation. Models were as still as could be, almost looking like mannequins to highlight the AW14 collection. Suede and leather combinations on the shoes meant you had to see the collection to really appreciate the detailing and craftsmanship's of the footwear.
Gieves & Hawkes also didn't fail to disappoint, with a strong collection that featured classic business attire and of course tailoring.
Day 2 saw another jam packed schedule, with J.W Anderson kick starting proceedings at 9am. James Long was the first show to catch my eye, which heavily featured leather mesh bomber jackets, polo necks (again), well cut jogging bottoms and quilted padded outerwear. As like many other designers, and emphasis on colour and texture again bought the collection the life.
A big fan of mine Richard James , introduced contrast and detailing to suit lapels, and introduced shine to his suiting alongside the more classic pieces.
Hackett again stole the show, with classic cuts and great accessories. With heavy inspiration from past trends, the raglan-sleeved coats made another consistent appearance, showing that it's a key style for next season.
With another early start on Wednesday, the day kick started with a front row seat for Agi & Sam next to the well dressed Oliver Cheshire and Jack Guinness. With African inspiration, the award winning duo really introduced culture into their collection.
Patrick Grant and E. Tautz also didn't fail to disappoint either, with a moving soundtrack the collection brought together the core elements of what the brand is recognised for. A wearable collection with heavy use of graphic coats, it of course had the Savile Row feel you'd come to expect from Patrick and his collections.
A burst pipe at Oliver Spencer didn't affect a great show, with John Bradbury from the Specials playing the thumping soundtrack live on drums at the end of the runway.
Katie Eary bought something new to the day, with Mikey Mouse helmets and extreme punk hairdos complimenting the collection. With deconstructed pieces, and heavy use of in-your-face prints, the show kept people on the edge of their seats. Yes, it's not the most wearable of collections, but the detailing and thought behind the whole collection really is astounding.
Burberry didn't fail to disappoint, and A. Sauvage capped off a great three days with an amazing last show.
The three days finished at the Old Sorting Office, drinking cocktails at the Fash/On Film event sponsored by River Island. Although it was tiring, menswear is still accelerating at a fast pace, and LCM goes from strength to strength.
If you went, what was your favourite show? Let us know in the comments below or Tweet us @River_Island.