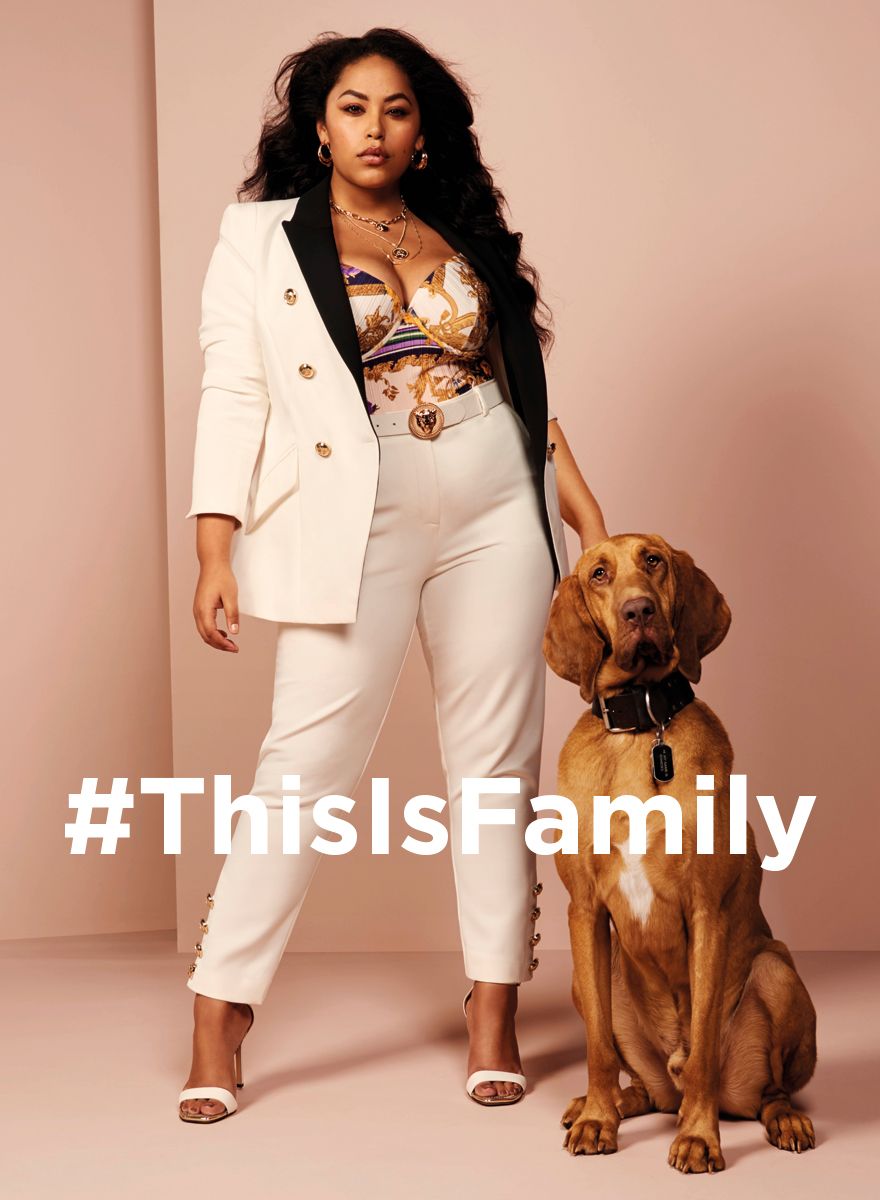 This season, we're celebrating all things family. This week, we meet Audrey and Rameses, the dynamic duo who are definitely our kind of #CoupleGoals. Despite recently getting engaged, Rameses is still top dog in their family. We caught up to talk motherhood, family and pet peeves…
Introduce yourselves…
This is Rameses, my two and a half year old bloodhound. He's my boy! And I'm Audrey.
Would you say your fur baby is part of your family?
Yeah! He's definitely part of my family. I had his aunt before him, and now I have him!
What makes your family special?
We're kind of a melting pot. I'm adopted and I'm from Los Angeles, my fiancé is German but we met in London and we now live in Germany. And my dog is from Mississippi! We're all over the place.
Who else is in your family?
My family is big! I have my mother and father and my adopted sister. I have three biological siblings. I have six aunts and uncles plus all my cousins have kids, so you can imagine just from that! And we're all really close, so it's a pretty large family. Oh, and I have four nieces! You can't forget about them. They're amazing!


How does your fiancé feel about the fur baby?
My boyfriend spoils Rameses more than I do! He never had human food until I met my fiancé - he just sits there and feeds him but he's so cute! Look at him.
Could you imagine a future without a dog in your life?
No! I can't imagine a future without a dog. My whole family knows that. I've got into trouble for having a dog but I love animals and will always have dogs. I think it's just part of me really.
What's Rameses like?
Rameses has always had an old man soul. He's always had a nice demeanour; he loves everyone and is obsessed with children. Bloodhounds in general aren't the most trainable, but he's been pretty good for the most part. He's just a goofball and he knows he's cute, so he gets his way a lot.
What type of dog mummy are you?
I personally don't like dogs in the bed, but only because of dog hair! I don't mind if he's on top of it every now and then but not under the sheets! When I was growing up, my dog would go under the sheets but I guess I was at the age when I didn't care! He's spoiled -my fiancé treats him like a human.
Will he have a role in the wedding?
He won't! I'm getting married in Los Angeles and since we're in Germany, I don't think I'd put him through that travel just for the wedding. Plus, he's like our child so it's like the parents are out and the kids with Grandma, you know? We'll be able to have some freedom but he'll be there in spirit! Maybe we'll put his picture on a seat…