Fashion: it's been at the centre of music culture since way back when, from Teddy Boys to Hippies, Glam to Grime, you only had to look at the UK's festival season to see these styles being flaunted. And what better way to get you in that festival mood than a crash course in UK festival fashion? We've put together a visual history to show how it's evolved over the years, from Hippies and Rockers to Ravers and Hipsters and everything in between. Who knows, you might even find some inspiration for your look this festival season…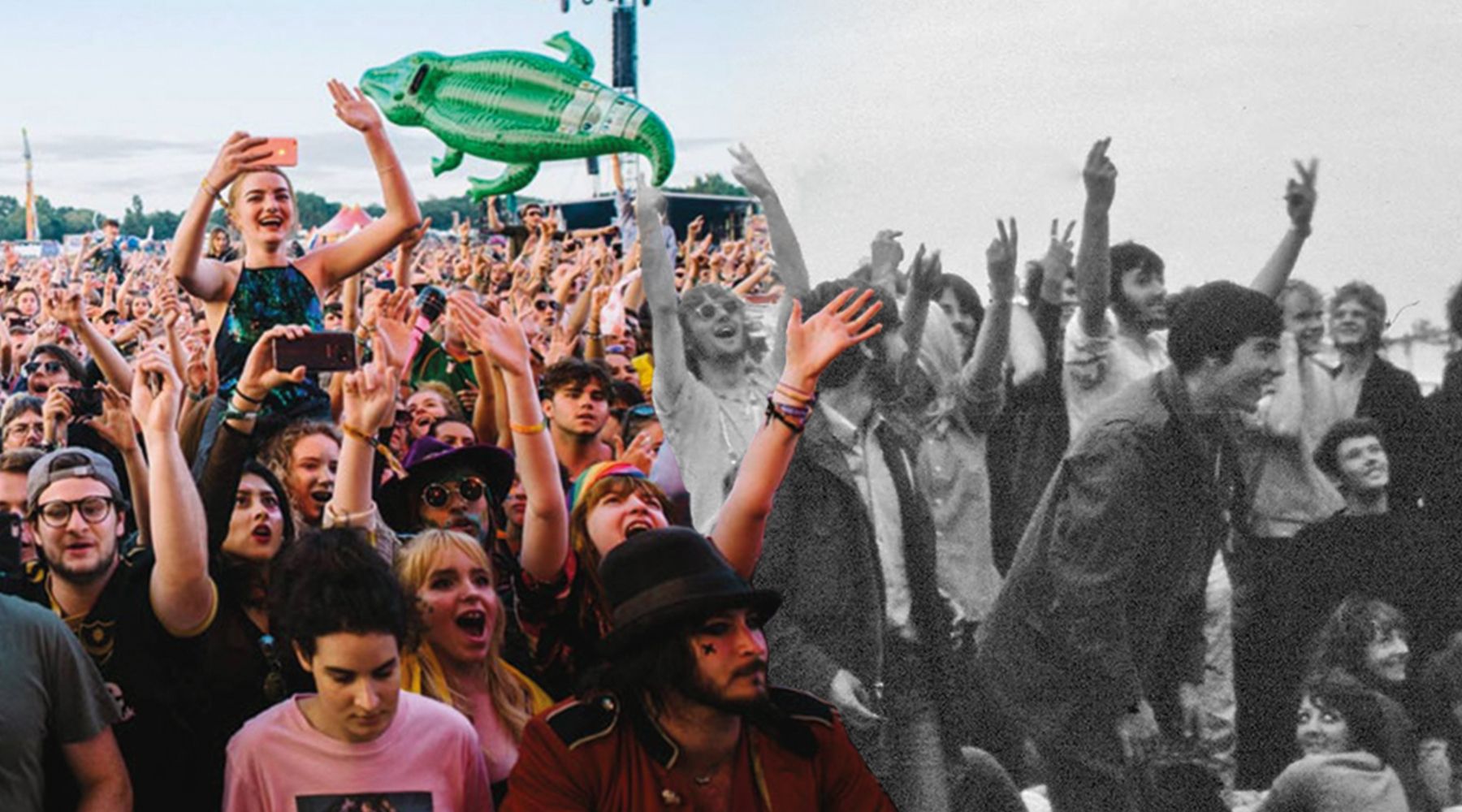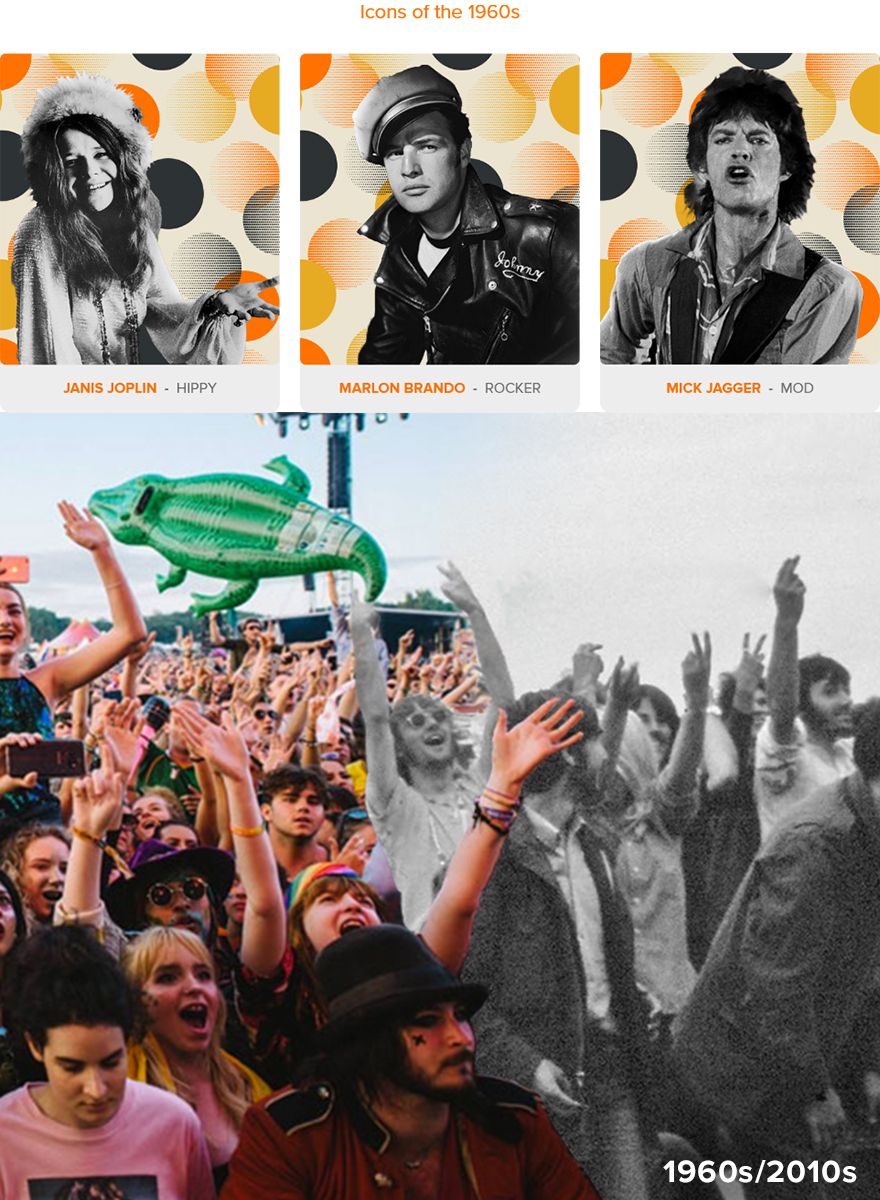 1960s: Hippies, Rockers & Mods

In the early days of festival fashion, there was no shortage of iconic looks to choose from. The most notable has to be the 'flower power' Hippy movement, which still has a home to this day. Look no further than the outfits Vanessa Hudgens rocks at Coachella, keeping the 60s style in the spotlight.
As well as the peace and love attitude of the era's Hippy revolution, there was a violent clash of subcultures in the form of the parka-wearing Mods and leather-jacketed Rockers which, a decade later, was turned into a beloved cult-classic movie and 60s fashion showcase – remember, Quadrophenia from 1979? Mods were considered more fashion conscious, favouring tailored suits and a clean-cut look, whilst Rockers styled themselves after Marlon Brando from his appearance as an outlaw biker in the 1953 film, The Wild One.
The Isle of Wight Festival kicked things off for UK music festivals as we know them in 1969 with a star-studded rock and folk line-up including The Who and Bob Dylan, allowing Brits to let their inhibitions go to a weekend of music, dancing and uninhibited fun.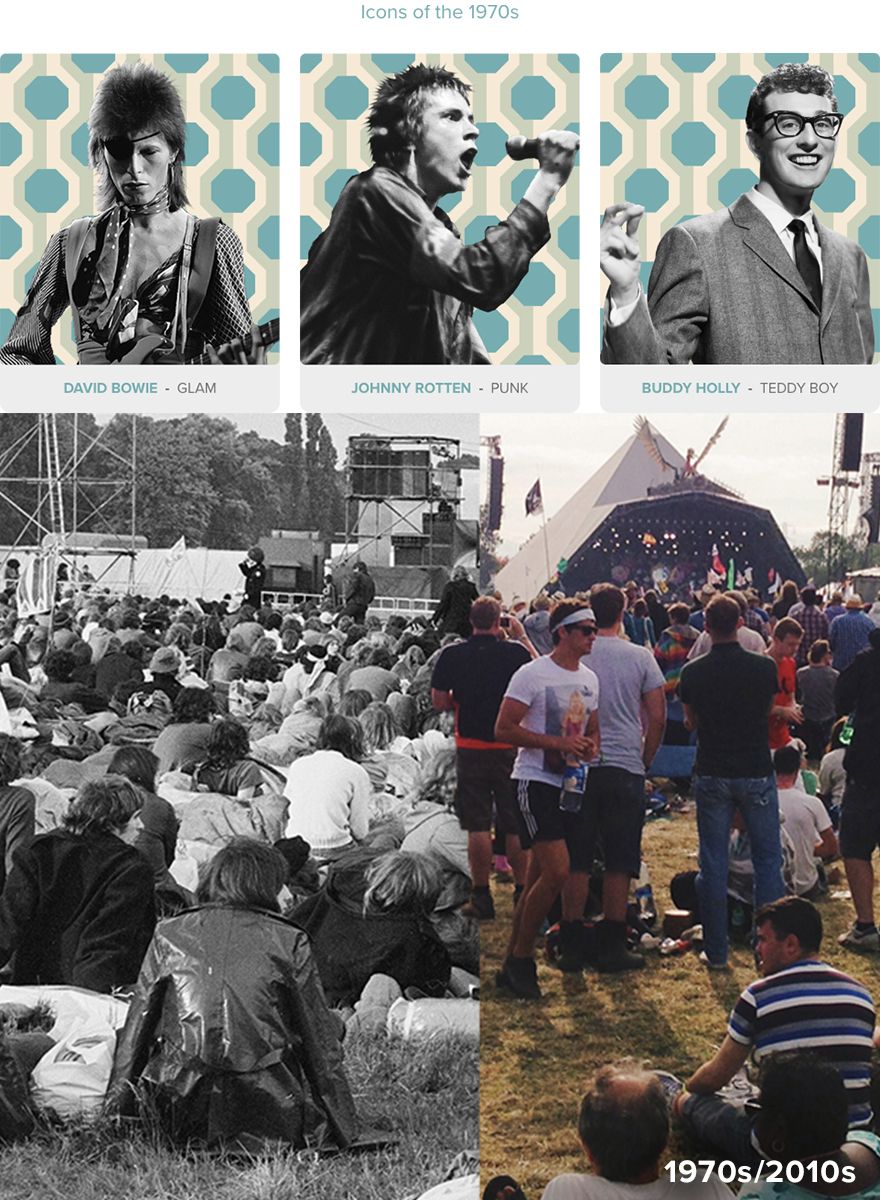 1970s: Glam, Punk & Teddy Boys/Girls

The 60s may have opened the door to fashion as an expression of politics and genre connection, but the 1970s took things to a whole new level with some of the most recognisable subcultures of all time finding their iconic look.
While Hippy culture slowly faded out, Glam rockers like David Bowie emerged to rule the airwaves and inspire a fashion revolution that celebrated androgyny and flamboyant clothing. The UK Punk movement also broke out with fashion inspired by the provocative clothing of Malcolm McLaren and Vivienne Westwood giving a voice to the disenfranchised youth of Britain.
The Teddy Boy/Girl style from the 50s also had a popular resurgence across the UK, drawing inspiration from American rock and roll icons like Buddy Holly. Zoot suits and pompadour hairstyles were essential - with added elements of the glam look (mainly in terms of colour palette) making their way into the 70s Teddy wardrobe.
The 70s also saw more festivals emerge - much to the delight of music fans. This era saw the first ever Glastonbury Festival which originally had the (much less catchy title) of 'The Pilton Pop, Blues & Folk Festival' and attracted 1,500 people, a far cry from the 135,000 revellers due to be taking over Worthy Farm in 2019.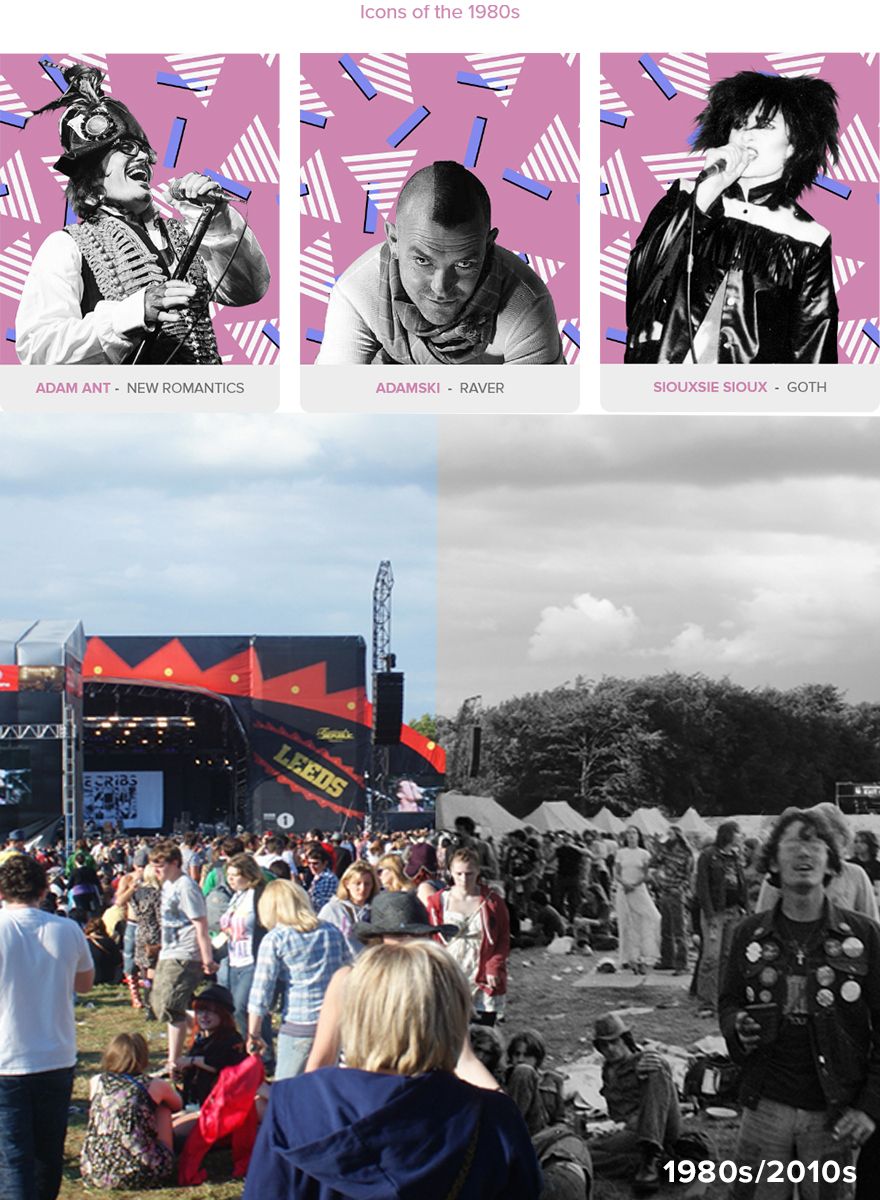 1980s: New Romantics, Ravers & Goths

The 80s was the era that embraced the weird and wonderful. Think theatrical statement outfits and a new take on period fashion that formed the New Romantic style, pushing boundaries and challenging gender norms. Meanwhile, Rave culture inspired a look that would become widespread throughout the following decade, renowned for baggy, colourful and visually stimulating style.
But it wasn't all spandex and loud colours, the 80s also saw the modern Goth wardrobe evolve from the older punk aesthetic – requiring heavy make-up and as much black as possible. Defying the rise and fall of many other styles, rockers were also still going strong, with their genre of choice growing more diverse through alternative rock and the rising popularity of post-punk.
With weekend-long events now a staple of British summertime, a greater variety of festivals started to emerge. Festivals like Reading & Leeds catered to the alternative crowd and rode the popularity of rock music across the decade, a focus which they've (mostly) stuck to ever since.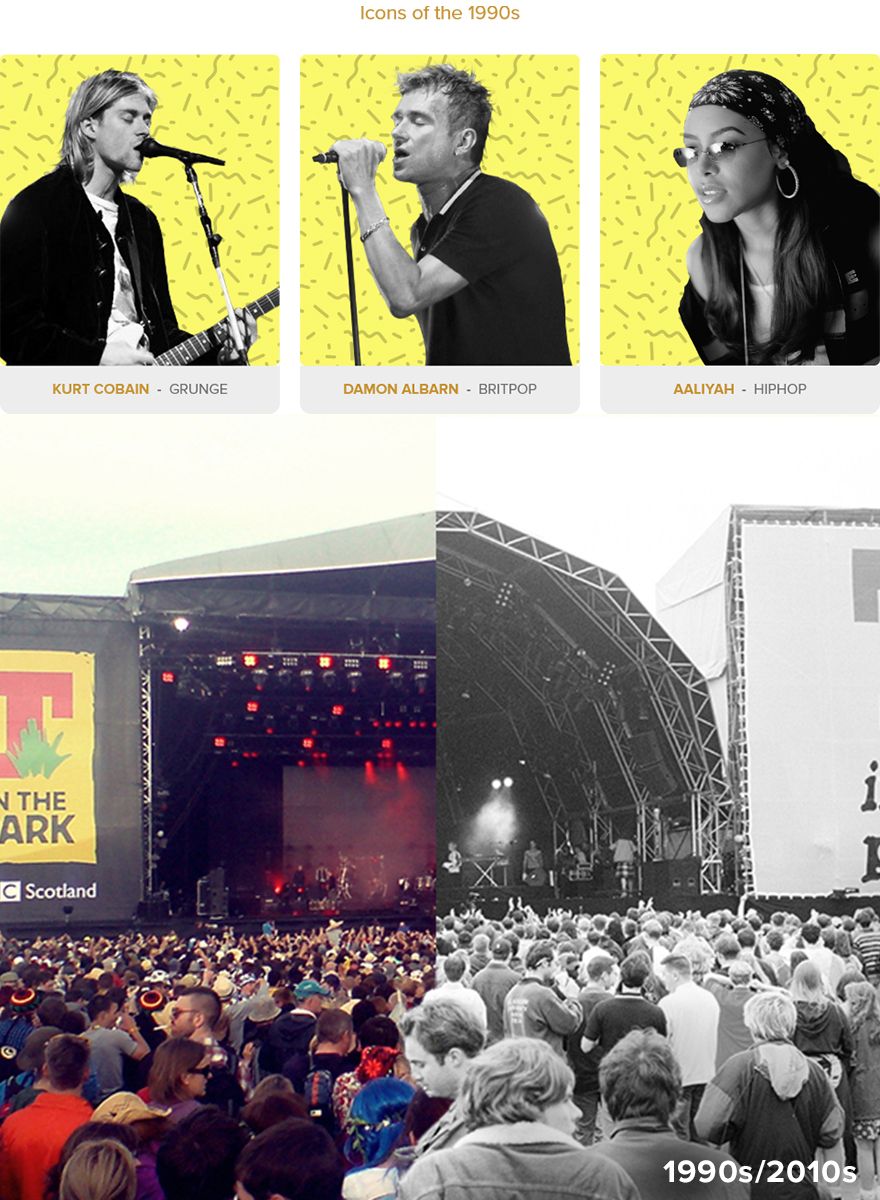 1990s: Grunge, Britpop & Hip-Hop

The 90s was a defining decade for music and fashion on both sides of the Atlantic. Grunge was taking over the US and Britpop fever swept through the UK. It was the decade that also welcomed Hip-Hop and its iconic fashion style to the mainstream, people couldn't get enough of those oversized sports jerseys, bomber jackets and branded tracksuits.
Pioneers of Grunge like Nirvana and Soundgarden became trendsetters; baggy sweaters, flannel shirts and torn jeans made their way from music videos to the high street and Britpop's influence combined elements of 'lad-culture', football casual and Mod fashion to create a style all of its own.
The 1990s saw a new wave of UK events springing up, most notably T in the Park and V Festival, drawing more diverse crowds and bringing festivals back into popular consciousness on a whole new level since the hedonistic free love of the 60s.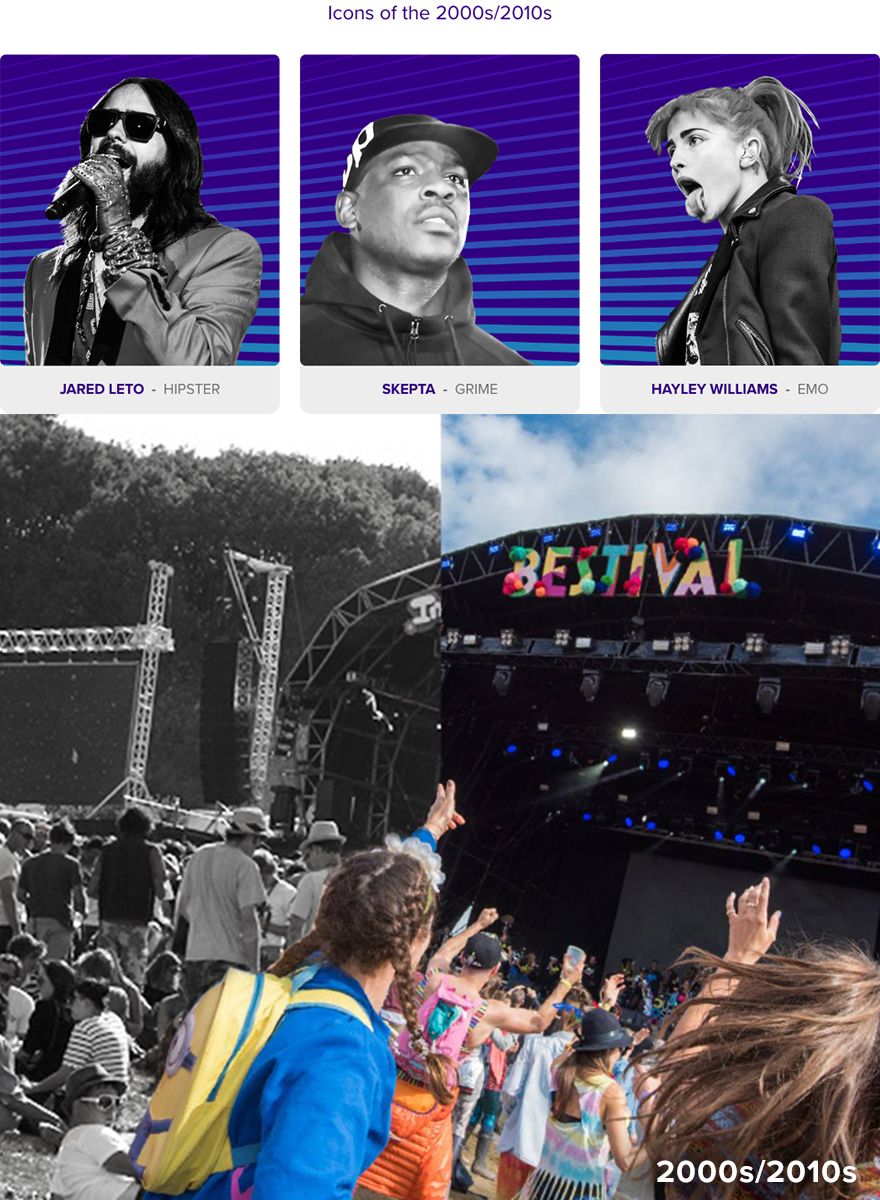 2000s - 2010s: Hipster, Grime & Emo

Festival fashion went through quite a lot of change in the 2000s and 2010s yet the amount of larger and core subcultures have declined. Now, people are feeling a lot more liberated and open to rejecting specific labels.
Festivals in the 2000s saw people edge towards a more glam look, think Kate Moss at Glastonbury in chic mini dresses and leathers. The decade also saw the rise of equally iconic yet totally different trends including Grime (bringing elements of high fashion to the Hip-Hop style) and the rise of Emo culture, famed for swooping fringes and post-goth looks.
As the 2010s came around, attitudes definitely shifted more towards 'wear what you feel'. Ever since Hipsters signalled a new break in mainstream styles in terms of attitudes as well as fashion, people have been much less interested in being defined by what 'group' they are a part of and would rather express themselves in their own unique way.
This anything-goes approach means we're seeing people look to iconic styles of the past and adapting them with a modern twist to create their own spin on festival fashion. Aspects of the 60s, 90s and everything between have become part of the fabric of today's festival style.
As the larger festivals continue to stand the test of time, many people began looking to cater to more niche audiences. The 2000s and 2010s brought about the rise of smaller boutique events in the UK, with festivals like Kendal Calling and Bestival quickly proving that they could compete with the big names.

So what's new?
Now that you've taken a trip back through festival fashion's stylish history, what does the next festival season hold? Maybe you're looking to bring back some classic looks or push boundaries with a style that's completely your own – either way, we've got you covered.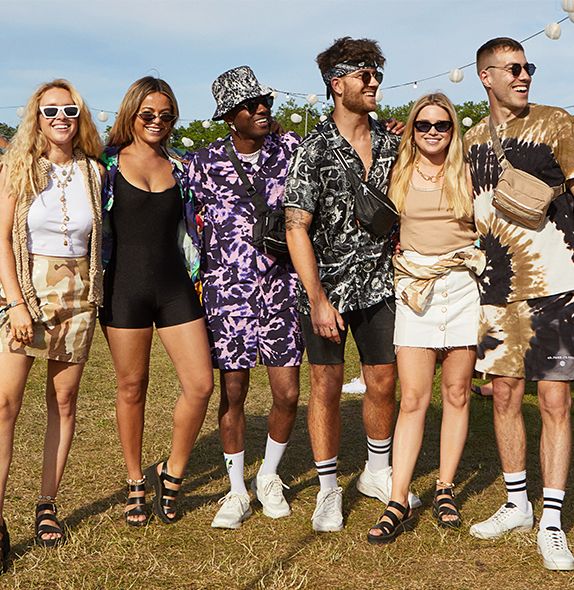 Cali Dreamin'
The biggest trend for 2019 is inspired by the Cali-cool tribe. The California Girl vibe is chill and

effortless; think neon pops, tie-dye oversized tees,
sequin sweatshirts,
denim mini dresses,
cycling shorts
and a big 90s mood. You'll see the Cali-craze rocking the UK's many boutique festivals like
Kendal Calling, Camp Bestival and Beat-Herder this summer.
Your Essentials
The Craft
Next up, it's 70s-inspired trend, craftwork. With elements of Bohemian, crochet, lace and tassels,
we're loving monochrome crochet and knit sets over bright bikinis for the ultimate colour pop. Your
1970s chic should feel right at home in Glastonbury – or any other big UK festival for that matter!
Your Essentials
Wild Western
If you aren't wearing Western boots or fringe in 2019, you're doing it wrong. This year's obsession is
with the cowboy boot, patchwork dresses, animal print and everything-in-between. There's no
doubt this versatile style will be popular in the fields as the UK enters the festival season.
Your Essentials
Bloom Town
Florals, for festival season? We think they're ground-breaking. 2019 is all about floral prints and lot
of them. Think vintage vacay with 80s style Bardot dresses, floral puff sleeves and embellished
miniskirts. Wear with ankle boots and feel at home everywhere from TRNSMT to the Isle of Wight.
Your Essentials
Accessorise like its 1999
This year get extra with your accessories, from bucket hats and skinny shades to chunky trainers –
Creamfields here we come! With headgear of all shapes and sizes dominating the runways, it's time
to get your head in the game and bring some big, flashy fashion back to the fields.
Your Essentials
Bloc Party
Turn the saturation all the way up, its highlighter pen but make it fashion. High-voltage colours have
been in our lives for a bit now and will definitely be in the fields this festival season, colour block for
extra style points.
Your Essentials
Match Day
Matching sets save you time in the morning and coordinating looks are a festival winner. Go for two
trends in one with a full camo co-ord. You won't regret it.
Your Essentials
Head to our
Festival Shop
to find the latest looks and make sure you're ready to rock the fields this
year.