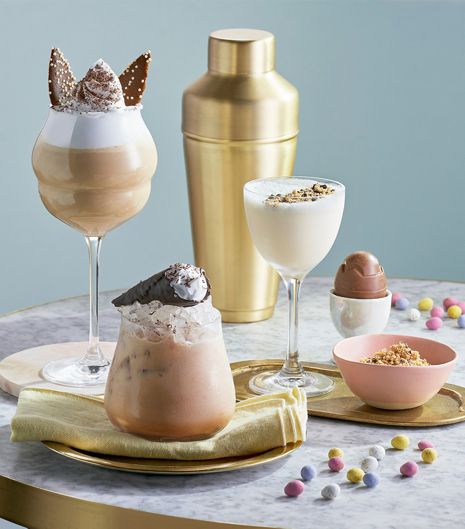 What springs to mind when someone mentions Easter? Chocolate eggs, family time… two extra days off work? Whatever makes you appreciate the holiday, we've teamed up with DesignMyNight to make sure you get the most out of the four-day weekend. From Easter-themed cocktails plucked from the mad world of Willy Wonka to child-friendly egg hunts in one of London's prettiest hotels, here are five things to get you egg-cited, with an outfit to go with them…
Easter egg hunt, London
South Place Hotel is home to one of London's prettiest spring installations and if you were looking for an excuse to see it this Easter, you're in luck. The hotel has collaborated with one of London's best known chocolatiers to create a special egg hunt, so you don't have to plot one out amongst the weeds in your back garden. Follow the clues, indulge on handcrafted treats and keep a keen eye out for the adult and kid prizes that are up for grabs along the way.

Easter-themed cocktails, Cardiff

If you were brave enough to give up chocolate for Lent, it's only right that you reward yourself at Dirty Martini. This slick cocktail bar has created a limited edition selection of cocktails for Easter, and each one on the menu is just as indulgent as the last. Pick from the Coco Loco, Cookie Kiss or the Caffe Chocchiato, and raise a toast to your unwavering resilience to Kinder Buenos in style.

Easter biscuit decorating, London
Egg hunts are a rite of passage come Easter, but if you've had yours a little early, or just want to bring a new tradition to the table, we've got just the thing. There's a biscuit decorating workshop taking place on Saturday 20th and Sunday 21st, where kids can decorate a selection of treats with edible paint and icing. Gluten-free and nut-free with vegan options aplenty, it's a fun and creative way to get the family together across the long weekend. Taking the biscuit? In this case, most definitely.

The Singing Cinema Presents The Greatest Showman, Liverpool

Although you might have sworn to hibernate indoors for the entirety of Easter, we've got one terrific reason to make you put down your chocolate egg. The Singing Cinema is launching in Liverpool on Saturday 20th and it's bringing The Greatest Showmanto the big screen. If you're wondering what else makes this pop-up cinema worth stepping outdoors, you can eat unlimited popcorn (that come in all kinds of flavours) and drink bottomless wine, beer and spirits for the duration of the movie. Bottoms up.

Easter afternoon tea, London



Furbies, Princess Diana memorabilia and more nooks and crannies than the Antiques Roadshow; Little Nan's has fast become one of London's most loved hangouts for something a little bit different, and if you're on the lookout for an Easter activity with plenty of frills and thrills, we highly recommend their afternoon tea. Promising tiers of homemade scones, Victoria sponge and dainty finger sandwiches, everything can be washed down with two servings of teapot cocktails for an extra £5.

For more information on Easter in London and across the UK, visit DesignMyNight and follow them on Instagram and Facebook; @DesignMyNight.
Words by Leighanne Bent