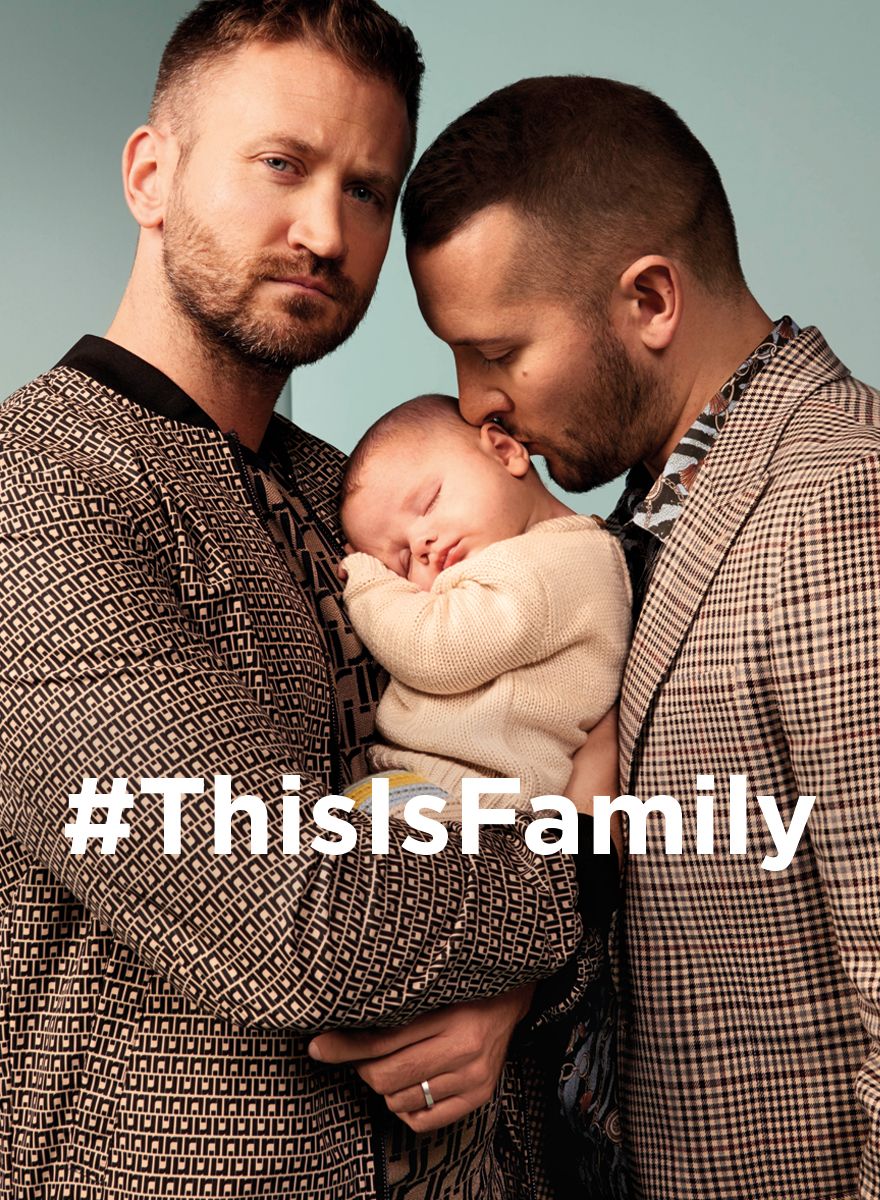 America tends to get a bad rep, right? Well there's one little lady who's changing that perception. Meet America Lily Jordan AKA the missing piece to couple, Jamie and Lawrie's puzzle. Having met over five years ago in London and since moved to Essex, the TV production pair are a real life online dating success story and have reaffirmed our faith in the apps. Born in California (hence the name!) via surrogate, America is now five months old and a permanent fixture in their lives. We caught up to talk feistiness and fatherhood…
How does it feel being dads?
Jamie : It's been a whirlwind!
Lawrie: Yeah, definitely a whirlwind but we're still loving every single day.
Jamie: I think it will still be a whirlwind even when she's four or five!
How did you find a surrogate?


Lawrie: Through a surrogacy agent in America - they introduced us to her and we developed a relationship over a few years. We were lucky to have a really positive experience - it was lovely to go over there and meet her family and share this together. It brings it all back to family. She's an amazing woman and took everything in her stride. She constantly amazed us with her kindness, her bravery and her care for herself during the pregnancy. Ultimately what she did for us was incredible and we won't forget that.
What makes your family special?
Jamie: Obviously we're not the first gay couple to have a baby and we won't be the last but we just never thought it would happen for us and now, we're two men and a little lady!
What would you like to teach America?
Lawrie: I think we'd like to teach her to be a strong, independent person who can stand up for themselves, who's ambitious and has dreams and follows those dreams just like we did, when we had her. Already she's taught us how to love unconditionally and taught us how to be a family.
What kind of woman would you like her to grow up to be?
Jamie: We've got so many strong independent women in our lives. She needs to have a backbone and be able to stand up for herself – that's why we named her America because it's her backstory.
Lawrie: It's an unusual situation she's been born into so she needs to be a tough resilient female and hopefully we'll give her the tools to do that. She's got three godmothers: an eleven year old, thirty something and forty something – and they're all strong women.
What's surprised you about being dads?
Lawrie: How many presents you get! It's like Christmas Day every day and it doesn't stop! I've never had so many presents in my life, forget any big birthdays, we've had so many gifts for her – it's amazing.