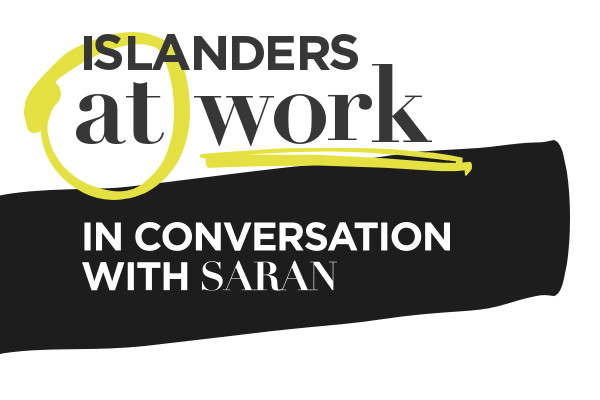 Ever wondered what it's like to work at River Island? Well, now you can find out. Meet Islander Saran, the General Manager for our London stores.
While it definitely isn't business as usual, lots of our shops are finally open (yay) and she's here to spill the tea. From RI rumours to expert style tips, Saran has got it all and more. Keep reading for an exclusive inside scoop …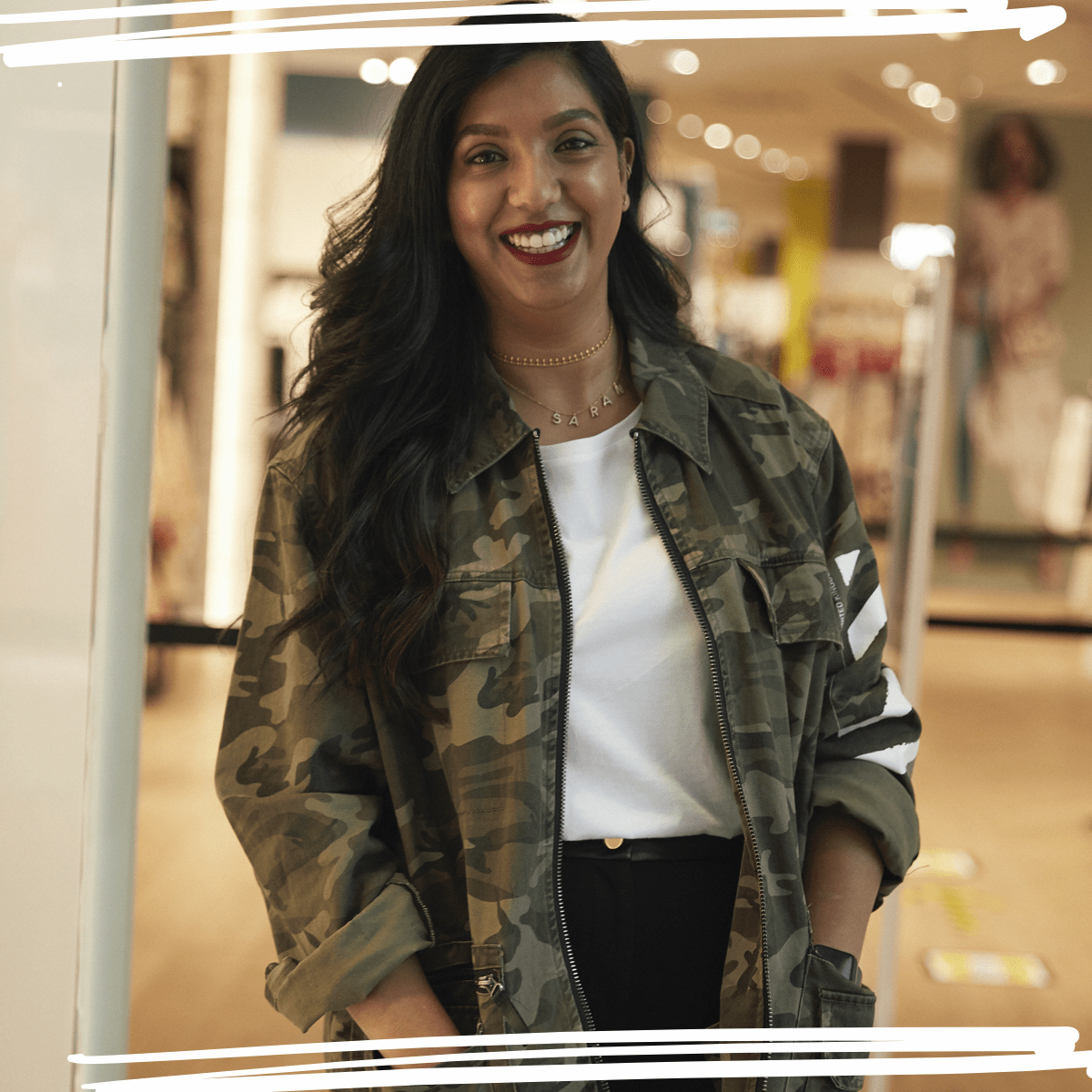 Are you excited to be opening again?
Oh, so excited but nervous. It's weird because when I went on maternity leave, my first day back at work felt like it's currently feeling. Like I'm the new girl on the block.
Is this the start of a normal day for you?
No! Normally the stores wouldn't be set up the way they are, and I'd have a lot more staff in. A lot of my teams are currently not in because we're not open yet. Normally we'd be processing a massive delivery, getting all the new lines out and I'd speak to my team but at the moment we've only got about a third of the head count in than we normally would. So, it's totally different to what we'd normally be working with.
Any tips for people who are finding getting back into their work routine a challenge?
Give yourself an additional 30 mins before you start your day, plan your outfit the night before so you're not rushing around in the morning- rushing always ruins my zen. Save left over dinner for your lunch because not only will you save a ton of money but you will feel better for it.
Give us a taste of what your life in lockdown was like? Is there anything you'll miss?
I have two children, Calum (6) and Max (2), so most mornings were spent trying my best to home school! I will miss spending such valuable time with the boys, making my 100th loaf of banana bread, going for long walks and listening to podcasts. I highly recommend 'Becoming' by Michelle Obama.
How long have you worked for River Island?
16 years officially but unofficially I did go and work for a competitor! I won't tell you who but I'm back, so the rest is c'est la vie I guess.
What do you love most about your job?
Oh god, there are multiple things, but I'd definitely say stock is one of the reasons. I'm a shopaholic which is probably why I've lasted so long in retail to be honest. Oh, and my amazing team! I do love them.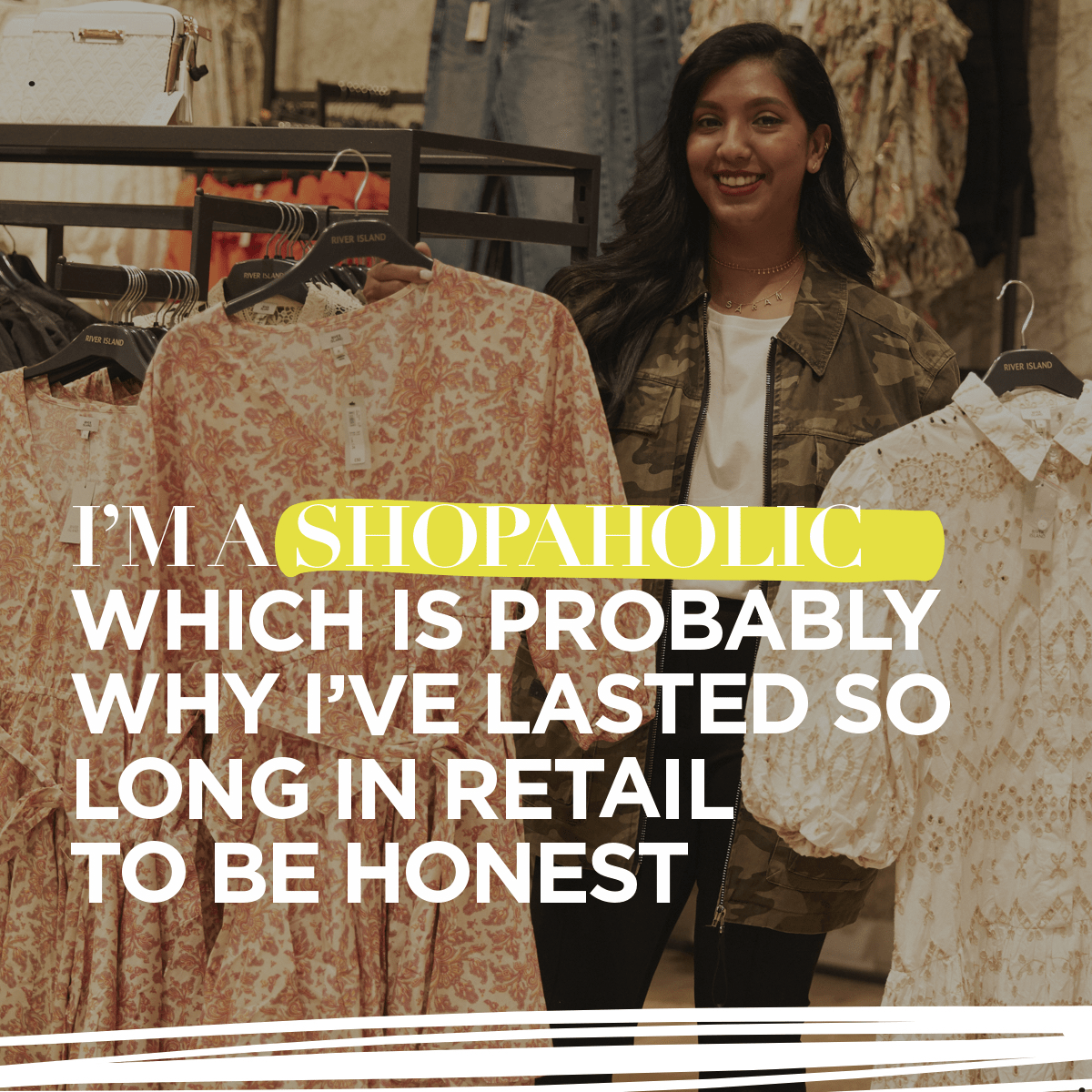 Why did you choose River Island to work for?
Funny story actually, it was my twin sister who worked at River Island and she left to go to university. She rang the manager at the time and said, 'I've got a sister that wants a job at River Island can she work here' and the manager said yes. I've stayed since then but because she was my identical twin everyone in that store used to call me by her name. So yeah, it was a bit tricky for three months being called my sisters name.
What would you put on to feel motivated right now?
I would say a blazer, any type of blazer if I'm honest. You could wear shorts, jeans, trackies with it and maybe a hoodie or t-shirt underneath, a crop top even. It just makes everything feel better.
Blazers say boss to us. Are you bossy?
I would say no, but my team would say 100%!
What would you say to customers feeling a bit nervous about coming back to shop?
I would say don't worry! We've followed government guidelines to get our stores ready and they'll be fine.
What are the top three skills it takes to be a great general manager?
My team is so important to me, so I'd definitely say people skills, communication and planning and organising.
River Island has been on the high street for over 30 years. What's the secret to its success do you think?
Well, it is a family run business which we all love, and the product has always been on the money which always helps. We do kids, we do mens and we do womens so there's something for everyone.
What do all RI store staff have in common?
The love of blue denim.
What motivates you?
My team. Seeing them all the time and the relationships we've formed over the years.
You seem to love your team a lot, what makes them so good?
They're just such a good bunch of people if I'm honest. They're so diverse, they're so different from each other but they work really hard. They're like my extended family.